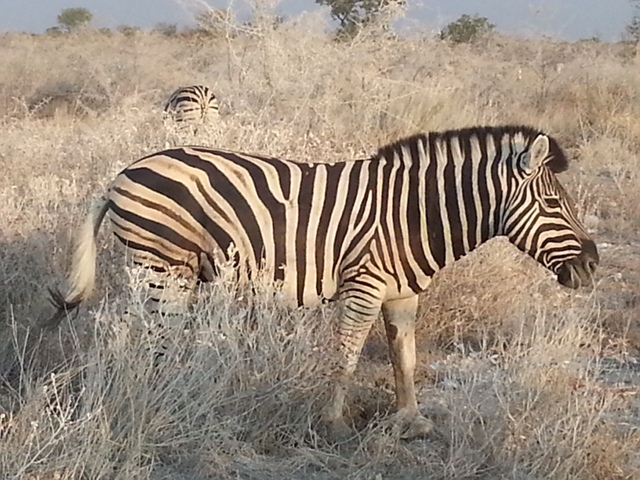 "Five Zero - Six Zero over - good morning buddy".....and so our conversation would begin. All the camps inside Etosha were connected using an internal two way radio, so anything said, was public. The rangers out in the field had their own frequency and base station, this too was placed next to ours, so very often when trying to pass on bookings or guest enquiries between the camps, we had to shout above the other banter. OK some of you may ask, why not turn the volume down, well your right, that would have been much easier BUT to be honest, their chatter was a lot more interesting. Often talking about injured game that a tourist had spotted or something broken at a pump. To fill you in, not all the water holes in Etosha were natural, many were man made, meaning a borehole and pump installation, powered by solar panels.
Oh how I wished to join these guys in the bush...."ok great Rob, chat later and see you over the weekend - six zero - out"
I would often go visit Rob in Halali. A rest camp in the centre of the three, and about 72km from Okaukuejo the main headquarters where I was stationed. Driving though on my own early in the morning was a great opportunity to spot game, especially leopard. Masters of camouflage, they would blend into the bush and it would take a trained eye to spot. One this particular morning I was heading to what I called MY TERMITE hill. On a previous occasion driving around, I spotted something dashing to take refuge from the disturbance of my vehicle. On closer observation and after waiting almost one and a half hours, a little mouse stuck it's nose out from one of the many holes which honeycombed the termite hill.
So today I was determined to catch this mouse, in fact, after consulting with my mammals book, this mouse was a Bushveld Elephant Shrew. And true to the name, had a long trunk like nose, as fast as Billy Wizz and very difficult to spot, let alone try and photograph. I was armed with dead insects I had collected the night before in the rest camp, having flown into the flood lights, burning themselves, then falling to the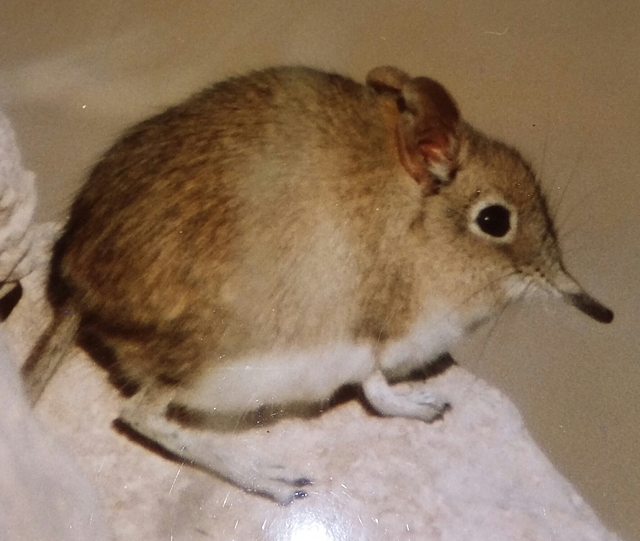 ground, and my Minolta camera with a 100-600mm lens, placed on a beanbag which rested in my car window frame. This worked well and gave me that stability needed when shooting with the 600mm basooka lens. And the waiting game started......after three odd hours and after me flicking dead insects in the general direction, this beast of a shrew poked it's nose out, holding my breath I waited for that PERFECT shot (glint in the eye/horizon level/no twigs protruding from the head/shading) "CLICK CLICK CLICK CLICK CLICK" the motor drive wrang out and shot I don't know HOW many frames. But, I did get this picture and to be honest, the many days of waiting had paid off.
After a few years of being in Etosha National Park I was moved to Namutoni, the rest camp and old German Fort, dating back to the German Shutztruppe (1914) It was here that I starting thinking of moving on, meaning joining a safari and guiding company. I eventually joined Namib Wilderness Safaris and managed their tour office situated at Makuti Lodge, just outside of the park. This gave me the opportunity to do game drives into Etosha on a daily basis and show the lodge guests Etosha's natural heritage......
Wilderness Safaris - Makuti lodge.
There are so many wonderful memories to share, memories I have had both by myself but also with guests while on tour driving through Etosha National Park. One of these was while alone and up north of Namutoni rest camp, outside of the tourist road network.
I had over time, become friends with all the rangers and obtained permission to go places off road and off the tourist network, and on one occasion I got dropped off at a place called Mushara, deep in the bush and only accessible by four wheel drive. This was a concrete hide, the main body was below the surface with one entry/exit in form of a manhole cover on the roof and only waist high above the ground. The main viewing area was a slit on the front of this block, just above the surface and facing a water hole.
So there I was, alone with provisions I had brought along, my bird book, camera and fresh water. Being dropped off I new I was alone and would only see my ranger friends again that afternoon when the sun goes down. So I settled in and waited for nature to show itself to my lense...
During the course of the morning I'd seen a multitude of plains game come and go, birds of prey, giraffe and then the action started. A large heard of elephant came to drink. At first they were all directly opposite me, going about their business of drinking and quenching their thirst after a long march. Suddenly, a leg appeared in my line of sight and virtually an arms length away from my position. I can tell you that I skipped a breath or two and stopped taking pictures as my lense was not a wide angle and totally useless in this situation. With that, a shadow fell INSIDE my what should have been a secure haven. I had forgotten to close the manhole cover after my last visit to the bushes, but also left it open for fresh air.....with that, the shadow then turned into a trunk and made it's way down through the manhole trying to sniff out what ever was inside. ME !!!
Man I can tell you one thing, I was shaking life a leaf and pressed against the wall in the corner with my arms open wide to each side of me,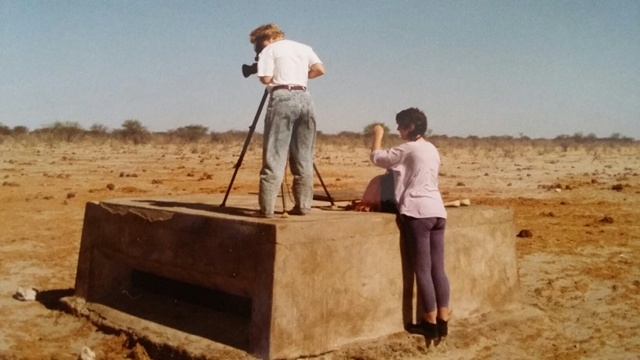 trying to put as much distance I could find, between myself and this elephant. The trunk was within half a meter of my face, dripping and the two mandibles opening and closing trying to find out what or WHO was inside. I pooped my pants with all sorts of what if... !!! Anyway, I realised that this inquisitive elephant could only stick it's trunk in so far and that I was in fact safe. After what seemed like a life time, the trunk gave up and lost interest in me.
Thinking back, the elephant had smelt the fresh water that I had with me, and was probably just trying to get to it and not come eat me. It's amazing how the mind plays tricks when in a situation like that and showed me how sensitive their sense of smell is. The rest of that afternoon I spent crouched down in the corner recovering.