We recently had an enquiry to design a custom bicycle tour for a couple. The challenge for us was this, two people who had various physical disabilities, from operated knees to false hips. The clients wanted to cycle as much off road as possible but using their own hybrid bikes.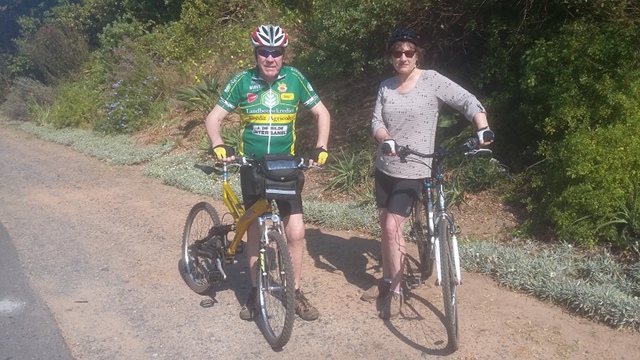 So the planning started. Luckily we had a whole year before the group arrived, and with the sending of emails, we managed to find something appropriate. We designed a total of seven days of Day Tours, some of them with a back up driver and some with just a guide who would then drive to a starting point and cycled a circular route.
D day came and we met Chris and Jeff in their guest house in Stellenbosch. They had brought their own bicycles along. Christine was riding a 26 inch hybrid, and Jeff a lovely old Giant full suspension.
During the next few days we had a great time out cycling and it was not long before the ice had brocken and we were chatting away about all sorts of subjects. The weather played along and I believe these two special guests both enjoyed themselves, with both the biking, but also the passing on of cultural, fauna and flora knowledge from the guide.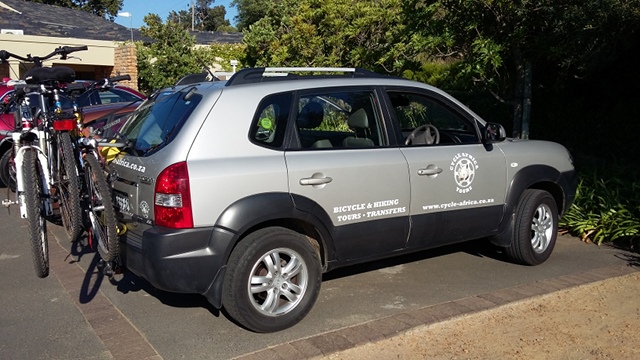 All Cycle Africa Tours are accompanied by a back up vehicle, this has a two fold effect. Should the client have had enough cycling, then they can stop the cycling at any stage and ride the remainder of the day in the luxury of an air conditioned vehicle, and two, you have a constant supply of water, bananas and energy bars. But also should their be the need for a first aid kit it's in the back up vehicle, all our guides and drivers are qualified to attend to the basics..
If you are considering coming to South Africa, please do not hesitate to contact us. We can arrange your accommodation, rental car, airport transfers, restaurant bookings and bicycle hire. See our current list of Bicycle Tours available, all our tours can be tailor made to meet your requirements.